It was announced by the Squash Australia, that Squash are now favourites to receive inclusion into the 2024 Olympic Games – now given the recent positive coverage that sport has been receiving it could actually happen.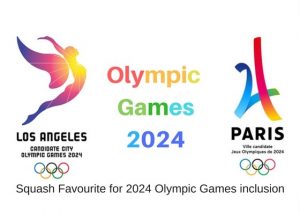 Recently, the IOC has changed its criteria in sports making bids to be included in the Olympics Games – in other words, they have come to their senses plus government officials have raised the matter in Parliamentary meetings, thus drastic change was needed.
Both the US and France are in running in a bid to host the 2024 Olympics. The US is pitching to hold games in Los Angeles and France hope to have the games in Paris. Whoever wins, both these countries have a great success in Squash and the sport has a strong fan base.
The World Squash Federation (WSF) is working hard with relevant Squash officials to get the sport included in the 2024 Olympics.
Reasons why it could happen
There are about seven reasons why it will happen this time around, rather than bad judgement call in 2015:
Squash is now good for your health – last year Squash was officially recognised as the healthiest sport to pro-long your life alongside it racquet cousins.
Squash is open to everyone – England Squash launched the first squash Centre of Excellence in collaboration with UK Deaf Sport at Lancashire based squash academy Leyland Lions Junior Squash & Racketball Club.
Squash has embraced live coverage online technology – this year saw the first ever live British Squash Open broadcast live on YouTube Live, from which the feedback was good.
Squash as a tool for peace – this month, the PSA Foundation lent its support United Nations' (UN) International Day of Sport for Development and Peace at El Gouna International Squash Open and Orascom Development PSA Women's World Championship.
Squash has expanded its global appeal – the sport is growing in popularity in other countries such as Jamaican and Barbados
Squash has global political support – both the UK and Zimbabwe government argued the case to have squash feature in the Olympics from which Makhosini Hlongwane, the Sports Minster of Zimbabwe voiced his great displeasure at the IOC for not including Squash at the Olympic Games; plus former IOC committee member Dick Pound joined in to support the cause.
Outdoor Squash – now this may sound odd, but squash will be available to play outdoors in a state-of-art outdoor squash at a local park. The product is being developed ASB Squash who created T-Point Smart Squash Court; with whom construct outdoor squash courts for major squash tournaments.
Squash is now popular again
To conclude all the reasons are good enough read why Squash should be in the 2024 Olympics Games plus whichever host country has a strong fan base of Squash and has produced Squash champions who have featured in major tournaments across the world. According to US Squash in 2016 47 countries hosted tour events, featuring players from 74 nations, from there are 1.6 million American players, and more than 20 million worldwide,
Either way, once Squash receives its inclusion into the Olympics, the impact will be positive and cascade down to the junior Squash development and raise the profile of current senior players. Hopefully translate into full television coverage, instead of highlights.