As a Squash advocate, we can truly say that 2018 has been another great year for the sport; despite stories of major Squash court removals and for us a loss of a key commercial partner.
Therefore, throughout 2018 there have been nine news stories featuring in Squash the media that have brought the sport to the forefront of the peoples mind but have influenced key stakeholders in government to change their attitudes about Squash in general:
Leyburn squash courts refurbished with help from council grant
With all the news of Squash courts being removed; hearing how a council is lending help to keep courts open is truly a great news story.
Akelia Wiltshire won her first senior crown
Now not many people know Akelia, but she made history by winning her first senior crown following her success of six junior titles.
Chris Binnie wins his 8th All Jamaican Squash Championship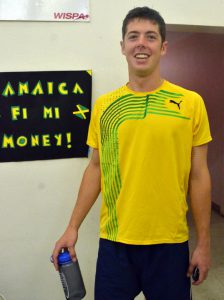 We are so proud of any Squash news that comes out Jamaica, especially with Chris Binnie; he is truly on course to increasing the awareness of Jamaica at major international Squash tournaments.
Daryl Selby wins first PSA World title in 2 years
Following the retirement of Nick Matthew, seeing Daryl win the PSA Bronze Tournament in Doha, Qatar; this gave UK Squash every reason see how Daryl is a contender for the title of Men's UK no.1.
Click here for full story on PSA World Tour
Tesni Evans becomes the first Welsh woman to reach Squash's world top 10
Squash is on rise in Wales following this success of Tesni at Commonwealth Games and winning the 2018 Women's British National Championship.
James Wilstrop wins Gold at Commonwealth Games 2018
With Nick Matthew retiring; James is another contender for the mantle of King of UK Squash; following his success at the 2018 Commonwealth Games in Australia.
Squash restructures aimed at simplifying tour and boosting earnings
Now the governing bodies have decided to create a better structure for players from the grassroots level to progress easier into the professional ranks. In addition, both male and female Squash players will earn the same amount in prize money at major tournaments.
Click here for full story on BBC Sport
BCIC Insurance Jamaica increases involvement of All Jamaican Squash Championships 
News of how a local company in Jamaica is backing Squash shows that the sport is developing fast and will help raise awareness too.
Roll on 2019
To sum up, these news stories about Squash in 2018, will serve as a foundation for continuing the efforts to get the sport its recognition alongside other sports, notably Tennis.
The one story, which was not mentioned in the press or on social media, was the extensive coverage of Squash at the Commonwealth Games on BBC Sport – now this was one the moments we tweeted about as we have been championing getting Squash onto TV.
Come January 2019, it will be the 39th British Junior Open Squash Championship, in Birmingham and promises to be a great one as the next generation of Squash players will be inspired by the greatest moments of the sport in 2019.