World Squash Day took place on October 12, which was one of the best one so far, given the number of Squash clubs that hosted an event to commemorate the day celebrating the sport.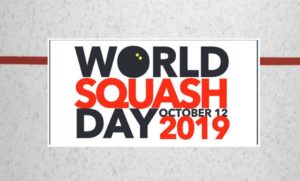 There was no major cause for this years event, however, we can assume that every Squash club looked about bringing about social cohesion in the local community.
On the morning of world squash day, England Squash legend Nick Matthew was interviewed on BBC Radio 2 about the event – a great way to raise awareness
Like most Squash Clubs, whether they are commercially or independently owned, (including those across the world), opened their doors to the local community to play a few games of Squash; with the notion of changing peoples, perceptions of the sport and get more people playing.
Most importantly the sport helped bring people together over a healthy sporting activity.
Some of the key highlights of the day were as follows:
Over 150 clubs and 4K played in clubs across the UK
England Squash revealed the figures of the number of their member clubs that took part. There was even a follow-up video:
Iranian women take in part in Squash
For the first time ever women from Iran were able to play in Squash clubs in Iran after years of being forbidden to play. There was support from Maria Toorpakai Wazir, who tweeted that World Squash Day in Iran had a large number of females taking to the court.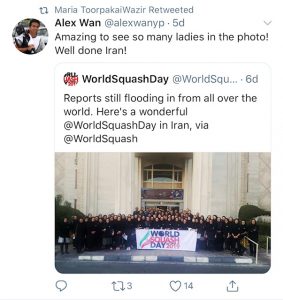 Pakistan hosts a World Squash Day afternoon
Despite the recent issues with their participation at global tournaments, it was good to see that Pakistan staged a World Squash Day afternoon. For the full story visit: https://nation.com.pk/13-Oct-2019/psf-celebrates-world-squash-day
Former Squash pro host inaugural world squash day in India
Former Indian No.1 Ritwik Bhattacharya, now a successful coach/promoter staged one of the most significant projects on World Squash Day in India designed to introduce young people to the sport click here for story.
Stars of past and present led their at a local level to boost numbers
Two of England's greatest squash players helped promote world squash day at their local squash club click here for story on the PSA World Tour website.
Truly, with World Squash Day it is definitely the best platform to getting people to take up the sport – thank god for Alan Thatcher.
Final Thoughts
So will we be hosting our World Squash Day?
Well, it's on our plans for 2020 – subject to a new collaboration.
Overall, World Squash Day 2019 was a success because of the social media buzz, especially in countries where traditions have changed allowing people to play and some clubs it was great public relations activity too to promote their local squash facility.
This was evident for one squash club in Egypt, managed to recruit more than 200 new junior members, many of them from local schools; as result of TV coverage at a peak time and was seen by millions of people on Egypt's main TV sports programme.
For the UK, all that is needed is more extensive media coverage like Nick Matthew did on BBC Radio 2, such as interviews on morning breakfast programme in the week leading up to the event.
Roll on World Squash Day 2020.