Squash Courts need to be saved for the future generations of squash players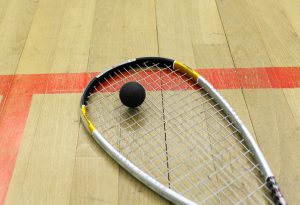 In a recent keynote speech at the recent 2015 Leisure Industry Week (LIW) conference in Birmingham, by a renowned fitness analyst, he discussed about the rise of budget gym chain in the last few years and their impact on the mid-market health club segment, such as LA Fitness and Fitness First.
From an outsider's point of view, will there be enough squash courts in the next 5 years?
In light of this development in the gym sector, there is a strong number of independent health clubs with squash facilities, which are either family owned or managed by member committees – how they are going to adapt to compete with budget health club? Is not about time they adopt a market proposition to sustain their business model to compete?
In the June edition of Squash Player, reported on the dramatic decrease in the squash participation. This could be as a result of the reduction in the number of courts across England, with some courts undertaking a transformation into either a second exercise studio or extended gymnasium; or the rise of budget gyms in the locality. One of the major contributing factors could be lack of media coverage and development in particular areas.
Recently, the Torquay Squash and Racketball Centre, Devon faced a crisis of closure resulting in no squash in the local area. It was a former squash player of the club, who acquired the club. His connection to the club, he played there as a junior and his mother used to manage the facility, this shows that squash has played an important factor in his and saved jobs, as well as continued on the legacy as the only squash club in the area and continue to boost squash participation in the locality can continue.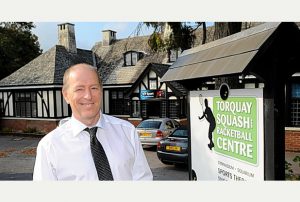 Photo credit: Herald Express – Click here for story
Following Pure Gym's acquisition of the LA Fitness chain, members of the Warley, Brentwood came together as a community to keep facilities of the club – including the squash courts.
As a result was DW Fitness stepped in and bought the club, but a dispute is still going over the number of squash courts at the club. The club has two squash courts, with 100 causal users and about 50 league players and the owners are threatening to remove one of the courts.
With evidence like this, the directors of DW Fitness need to think about their members, especially in terms of membership retention; and not think about their balance sheet.
The key word from the fitness analyst keynote speech is innovation; maybe it is time independent leisure club owners (with squash courts) look about a new strategic marketing direction and should consider using squash a CSR activity of widening participation of squash as tool of engaging with the local community.
Maybe it's time England Squash should intervene and save the independent squash clubs, as part of their manifesto, especially now their recent new corporate identity has taken place.
However, from my observation, having worked in the health club sector; I noticed that most private sports and leisure clubs with racquet facilities, either managed by member committees or a part of a big chain, seem to have invested a lot of money has on tennis with a hope to produce a new Andy Murray, but I ask how about squash?
Wouldn't it make financial sense to invest in squash programs in finding the next British star of squash?
#SAVE OUR SQUASH COURTS