Bermuda is one of the most intriguing countries within the Caribbean, where people would love to visit; but when it comes to Squash – the country is well-known to be one of the most competitive nations around at junior and senior level.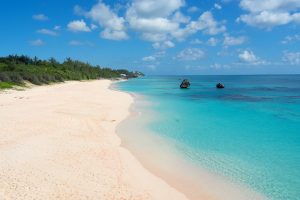 Like both Barbados and Jamaica, Bermuda boasts a strong grassroots Squash programme with excellent governance of the Bermuda Squash Association, founded in 1962 and has well over 300 members.
The country has played host to a number of Professional Squash Association (PSA) sanctioned Squash Open tournaments since 1994, including the 2007 Men's World Open Squash Championship – in a thrilling tournament, won by Amr Shabana of Egypt, with France's Grégory Gaultier taking second place and Nick Matthew (England) and David Palmer (Australia), taking joint bronze in the semi-finalist positions.
In terms of Squash access, the country has three high-end health & squash clubs that are on par with an English health & squash club. Each facility has a strong community feel to them.
Given the size of Bermuda, residents have greater access to play Squash and make friends on the island too.
CASA champions at junior and senior level
Just like Jamaica and Guyana, Bermuda can boast about title credentials, as they have won CASA titles at senior level with 4 team titles in 1981,1983, 2003 and 2010, 5 individual (men's, women's and veteran categories) and 3 team titles (boys category) and one overall CASA team championship in 1998; thus making them the fourth successful Caribbean Squash ever.
Commonwealth Games participation
Bermuda first took part in the Commonwealth Games in 2010, with one player named Nicholas Kyme, who later went on to take part in tournaments across the world. Following his participation in the commonwealth games, other players from Bermuda have gone to take part in other Commonwealth Games tournaments.
Plenty of growth potential for the future
Overall, Squash in Bermuda has the makings of being a popular sport given the closeness of their Squash landscape. Furthermore, there is an equal amount of players across genders.
Recently, the Bermuda Squash Association held their yearly Legends of Squash tournament, with former Squash champions — Laurens Jan Anjema (Netherlands) triumphing over David Palmer (Australia) in the final.
In terms of world rankings of their players, the latest information according to the Bermuda Squash Racquets Association, in the men's categories Noah Browne, (no.147 in the world) is Bermuda's no. 1 male Squash player, with Rachel Barnes is the current female Bermudian Squash no. 1, with a world ranking of 188.
In conclusion, it would be great for Bermuda squash players take part in a PSA sanctioned tournament or even better part of West Indies Squash super team competing against Squash giants, such as Australia, Egypt, and Great Britain – however, time will tell if they can reach the heights of their fellow island rivals.