In past I have said that the West Midlands is wonderful community when it comes to Squash, this was evident last week Birmingham's Centenary Square put on showcase event involving Squash to promote the 1 Year to Go of the Birmingham playing host to the 2022 Commonwealth Games.
The event also saw the launch Squash United, a new initiative to promote the sport and get more people involved in sport too.
The Squash United initiative is going to see a major collaboration between with two of the West Midlands England Squash Gold venues the Priory Club and Wolverhampton Lawn Tennis & Squash Club, along with neighbouring Warwickshire Squash Association.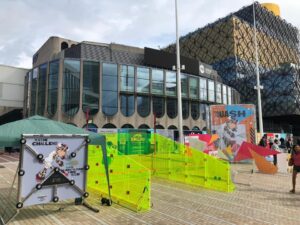 Birmingham Centenary Square (Photo credit: World Squash Federation)
As founder of the Onyx Squash Academy, I was very pleased to see my former home city put on a Squash showcase event in the central part of Birmingham – my only regret is that I could not attend.
It is worth remembering the West Midlands is the home to Squash stars who have and currently play on PSA circuit, notably Sarah-Jane Perry.
Cross community benefits
What about other parts of the West Midlands? Mainly those in the Black Country and Warwickshire towns.
I know that other parts of the West Midlands such as Dudley, Solihull, and Walsall have very strong Squash communities – I was a Marketing Manager of an independent health & squash club in Darlaston, Walsall for 2 years and one time member of the Wolverhampton Squash Development Group, so I know these areas very well.
In my time living and studying in the West Midlands, I could remember seeing Squash played by vast array of people from your typical window cleaner to your Barrister – hence you could imagine now Generation Z of West Midlands is going to take up the sport given its health benefits.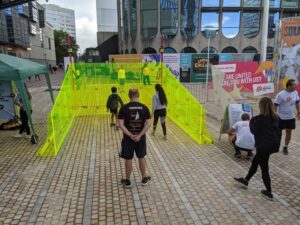 At a grassroots level, I noticed a few schools across the West Midlands with Squash provision; hence, the Commonwealth legacy is going to have a significant impact on the PE syllabus, when it comes to lessons in sport – hence Squash could be an excellent activity to introduce kids too, notably those who do not want to play football or netball.
It is worth a mention in the West Midlands, most of universities notably Aston, Birmingham, Coventry, and Wolverhampton have Squash courts and compete in major competitions against other universities in the BUSA tournaments.
Note, some of most successful Squash stars have studied at universities in the West Midlands; hence the home county has produced many stars who have gone to become world champions of the sport.
I fondly remember as a student at the University of Wolverhampton watching a BUSA Squash match on a Wednesday afternoon – hence, with the all West Midlands Squash alliance is going have some influence on improving provision at Universities to attract more talent to play a World University standard tournament.
You could say that Squash United is going to play a vital role in putting the sport back into the mainstream of sport.
As for independent venues in the West Midlands with Sliver status accreditation, they could also benefit too knowing that Squash is going to a priority sport and even could get some form of extra financial support to help young people into the sport too.
Building upon a legacy beyond Commonwealth Game
From reading news articles and watching a news on the Squash showcase event, I have no doubt that the Commonwealth Game in Birmingham is going to have a stronger legacy compared that of London 2012.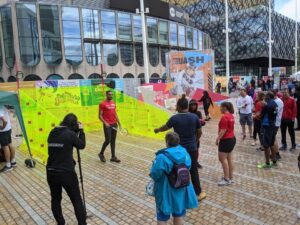 Many would why I would say that, despite being a Londoner – well, there have been no major costs of putting on the Birmingham Commonwealth Games, and I reckon each town in the West Midlands is going to benefit, including those towns that are a social depraved.
Personally, I think this collaboration between the regional Squash boards in the West Midlands is going to put the West Midlands on the map as place for Squash and definitely boost Squash participation in the West Midlands, as it needed, (note Birmingham hosts the British Junior Open that is the curtain raiser to competitive junior Squash tournament every January).
Overall, I think the Squash United is going to make the West Midlands one of Squash's popular places to play the sport. Furthermore, I hope to see more Squash courts in communities in which residents can access provision easily by local transport or by foot.
I see this cross-town Squash collaboration as a blueprint for all other UK cities to follow in boosting Squash participation and making it accessible for all, young and old.
Blog post by Jermaine Ranger MCIM Chartered Marketer
---
Image credit: Tony Western and World Squash Federation