With all the talk about making Squash more accessible to all outdoors, it seems plans for making this a reality may happen sooner than we think, thanks to SQUASH+, an amazing innovation by Lee Witham, of ProSportCourt.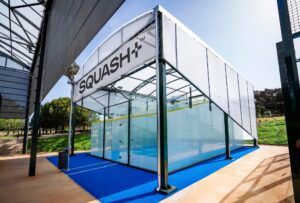 Just last month, we came across Lee Witham's SQUASH+ indoor/outdoor concept, and from looking at the image rending of the courts this shows that Squash can soon become an outdoor sport alongside its racquet cousins.
Obviously, Squash will continue to be traditionally known as an indoor sport – but SQUASH+ can replace the void in areas where indoor Squash provision is limited for some to access and make the sport more visible in an outdoor setting.
Vision behind SQUASH+
Compared to other outdoor Squash concepts, the SQUASH+ design is an indoor/outdoor innovation that combines effective lighting and a canopy that places Squash outdoor.
This is the ideal way to revive the sport to the next level, like getting the sport to appeal to people who love to exercise in the green space.
The mastermind behind SQUASH+ invention is Lee Witham, who is both a Squash pro and US College coach; now he can add the title of an innovative inventor, a lighting specialist, and a court designer to his profile.
Having read into the vision of Lee and his team, like all of us they share the goal of increasing the profile of the sport and making Squash accessible to more people, especially for children.
One thing that inspired SQUASH+ is that tackling squash's problems is the perception that many facilities are uninspiring places and are often poorly maintained; hence, the dynamism of the game is not reflected in the places where it is played.
Fortunately, the Squash+ concept will ensure courts are well lit in terms of court lighting and appeal to those who want to play the sport in their local community.
Campaigning for outdoor Squash
We have talked in the past, about outdoor squash is going to make the sport a lot more accessible and even suggested several locations in the UK, notably Birmingham and London.
Let's not forget Birmingham was the first location of a UK outdoor squash court and placed at a local junior school.
Now with the SQUASH+ concept could see more outdoor provision of the sport become a popular pastime in the UK and other countries.
In fact, outdoor Squash will bring about more opportunities for local people to watch a sanctioned squash tournament on their doorstep or serve as a place for exhibition games in the lead to major tournaments.
Playing Squash all year around
Looking at the Squash+ design, it features an overhead canopy something, which makes the concept, stands out and help bring more appeal to the sport.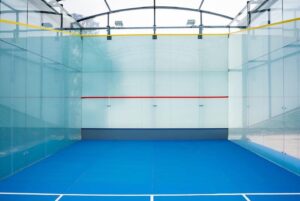 Soon Squash will become an all year around sport, just like tennis; without being disrespectful to Badminton, Squash is going to become popular once again.
Compared to Padel, another one of Squash's racquet cousins, Squash can even compete with them in terms of calories burning and enjoyment, too.
Sports clubs with existing Squash provision might (subject to planning) consider a few SQUASH+ courts at their venues.
In fact from the locations mentioned in a blog we did on potential outdoor Squash venues in the UK, Surrey Sports Park could be an ideal location for Squash+ in the South along with former venue of the London 2012 Olympics, plus the newly developed Master Park in Oxted, Surrey.
Either way, Squash is going more visual across the UK with SQUASH+, also local squash clubs can play tournaments all year round.
Final Thoughts
With the 2022 Commonwealth Games just weeks away and funding in place to boost Squash post Commonwealth Games, Squash+ is going to be another initiative that is going to be a welcome innovation for sport in the UK.
As for other countries, which could also benefit from SQUASH+, personally it would be good to see Squash+ in Jamaica, Democratic Republic of Congo, Zambia and even Australia, along other parts of Asia; as each location is very popular for hot weather.
Imagine this, a SQUASH+ court at your local park along with other sports provision – who knows local parks could become more health venues for people to reap the rewards of getting active in green space surroundings.
Overall, with all various types of outdoor Squash provision being developed across the globe, notably the El Salvador based community squash programme Squash Para Todo and the public Squash courts in the New York; it enviable that outdoor Squash is going to become more important in reviving the sport.
To sum up, what Lee Witham and his team have come up is excellent for the sport, and definitely make the even more popular and it would be good to see what the future holds for the sport to boost participation and making it more accessible for people of all backgrounds.