On the month in which 2020 Olympics took place, you know there was a discussion on why Squash has received it long overdue inclusion.
We can only hope that will happen, mainly as there was news that 2032 Olympic Games taking place in Brisbane, Australia – hence, there is going a strong campaign to get our sport into before this edition of the Olympics.
Now this was something that Squash fans alike can rejoice, as you know full well that there is going to be serious lobbying by all squash federations to make sure that the sport has inclusion by the time of 2032 Olympics.
Furthermore, Australia were a dominant force of the sport (and still of one of the best), so this could be an excellent opportunity to revive the sport in great country.
Throughout July, there have been some interesting developments in Squash, (despite the ongoing issues with pandemic), which fans can acknowledge…
Squash player slams Wokingham council for price increases
Now given the issues in Squash accessibility over the years, it seems the root of cause could be a pricing issue.
In case of Squash player who is a regular visitor to St Crispin's Leisure Centre, a local authority leisure centre based in Wokingham, Bracknell – it seems there was issue of price to play a game at the venue.
Given the pandemic the you think the local authority would encourage people to come back to the facility – particularly if members have missed out on playing Squash and it's the only thing that can help with their health too.
Fortunately, the member was able to resolve the matter; nevertheless local authority leisure operator needs to take cautious approach when it comes to pricing of Squash, along the lines of researching commercial operators in the local community.
For full story, visit Bracknell News for the full story.
England Squash Appoints Massaro in High Performance Role
The story of Laura Massaro being appointed to a senior role with England Squash is welcome boost for the sport, particularly as the Commonwealth Games in Birmingham is a year away and it is always great to see a legend giving back to the sport, in form of coach or mentor.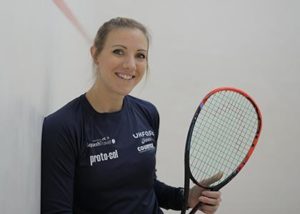 Having retired in 2019, Laura is one of most successful women's players in England and achieved world no.1 ranking back in 2016, from which she clearly put Squash back on the map for England.
She also had great battles with Nicol David another Squash great, back in 2010s.
In addition, in 2020 Laura received an MBE for services to Squash.
Her appointment of high performance coach for England Squash is fitting along her role as mentor to young players too – thus the next generation can be inspired from a great player and role model of the sport.
Farag and El Sherbini claim titles at PSA World Championships in Chicago
Once again, there were an all -Egyptian finals in one of PSA Tier one tournaments – PSA World Championships, with Ali Farag and Nour El Sherbini tasting glory at the Professional Squash Association World Championships.
The tournament win cemented Egypt's status as the undisputed powerhouse of world squash.
For Nour El Sherbini, she is now a 5-time World Squash Champion that puts her equal with Sarah Fitz-Gerald (Australia) and 3 behind Nicol David. As for Ali Farag, he won his second title and regained his ranking of men's no.1.
Amanda Sobhy made history in becoming the first US player to make the semi-final too; nevertheless, her accomplishment is going inspire more children from the US to take up Squash.
Squash and Racquetball Victoria Launches New Junior Squash Initiatives
Now with news that Australia is going to host 2032 Olympic Games in Brisbane, it seems that the great country is already starting to work on attracting more young people to the sport.
News of Squash and Racquetball Victoria new Victorian Junior Squash Tour (VJST) and Ranking System (VJSTRS) is going help revive the sport.
Let us not forget, Australia were a major dominate force in Squash throughout 1970s to 1990s – hence the country is clearly working hard to regain this matter with a new scheme to provide additional opportunities for all junior players to compete at levels appropriate, to help them to reach their full potential.
Our International Ambassador makes final of Open Westville Country
Jean-Marie Besombi took part in the final of the South Africa's Open Westville Country tournament at the Parkview Squash Center in Johannesburg, South Africa.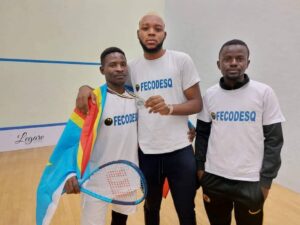 In the final he faced South African Brian Nude and on only one set, cashing 3 on the return. 3 sets 1 final score, 11-09, 12-10, 10-12 and 11-09.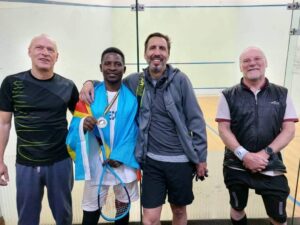 Despite finishing runner-up, Jean-Marie done his homeland proud and we look forward to seeing him competing and raising the flag of Congo at more international Squash tournaments.
All roads lead to 2021/22 Season
With the 2020/21 season ending, there have been some interesting developments in Squash and it shows that our great sport can operator well throughout the pandemic.
From a business perspective, Squash has shown the world it can be a part of the Olympics (yes, we are going to lobby the IOC on this) and the 2022 Commonwealth Games in Birmingham is going to highlight this given the cultural diversity of the sport.
When it comes to venues, well independent ones need support and can play a significant part in grassroots, as we reckon a lot more work needs to done in communities that Squash is underrepresented in.
If someone was assess whether 2020/21 has good, it would fair enough to say it has and with 20th edition World Squash day coming up in October, this is going be the catalyst in getting Squash back on track and showcasing to the world our sport is healthy and fun to participate in whatever your age and ability.