The global pandemic has serious impact on grassroots Squash; in terms of accessibility to provision in higher Tier labelled areas – but post-lockdown, we ask is how can we revamp the sport to appeal young people?
Each January kicks off the start of competitive junior Squash season with the prestigious British Junior Open in Birmingham; a key event that helps raises the profile of junior Squash athletes from across the world.
However, because of overseas travelling restrictions and the new Covid variant cropping up and Birmingham going into Tier 4 lockdown, could have a negative impact on squash provision, as some children will lose interest in sport.
So, what needs to revamp interest of the sport amongst young people? Well, the following solutions are workable and cost effective:
Get schools more involved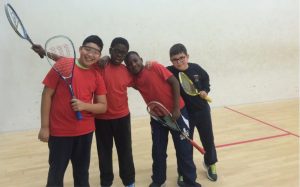 In the past, we have stressed about the importance of Squash within secondary schools, in areas with strong BAME background. Our suggestion is post lockdown, the PE curriculum needs to factor in Squash, as it is a sport that proven to have substantial health benefits.
Funding will not be an issue as the local authority sport development can help, especially if the programme has key benefit for children playing Squash.
Let us not forget there is the School Squash championships, so by having Squash on the PE syllabus could be drive encourage to take their lessons to the next level in competing in tournaments against their peers and also potential bragging rights for Principals too.
Forge stronger relationships with local media
The local media is a great platform for local sport, (if the newspaper is FREE), with news stories on Squash at a local venue – whether it is a fundraising tournament for the local NHS or local health charity. If a local Squash team is taking part in a regional tournament, whatever the result could generate more interest with parents/guardians' influence in getting their children to play Squash with a local academy.
Get local (blue chip) business to back programs
Like any blue-chip brand, they will look to raise their profile in a local community of one their key towns, so backing a local Squash initiative would the ideal solution further Squash has proven health benefits too and the mantra in the new normal is healthy.
It would be an ideal for financial services sponsoring local grassroots Squash, – a FinTech brand, as it's one of the fastest growing enterprises in the money sector.
Why? Well, let us not back in the day most city professionals would play Squash after work or use the sport as a deal maker.
Establish a stronger development committee
To a quote on teamwork by a philosopher:
"There is strength in numbers, and if we all work together as a team, we can be unstoppable"
Anon
Having once been a part of a Squash development board, focusing local Squash provision, this quote applies to having all Squash venues large or small come together to safeguard provision in the local community.
If we put into the context of a large venue and small venue, how the two can work together is hosting a local tournament for players of all abilities to compete for a title of local Squash champion in various individual categories, alongside the team categories; perhaps a local league.
This would help save local venues and raise more interest of the sport in the local community.
For instance, in Bromley – a South London borderline Kent town there are five venues with excellent Squash provision – two of which are commercial but tournament amongst the Squash players young or old (like a all levels team tournament) could generate more interest of the sport.
Build outdoor Squash courts in key areas
In the last few years, we have seen the rise of outdoor Squash venues across the world especially with our US cousins, more recently in South America there has been an initiative to develop the first outdoor Squash courts in El Salvador, which will make accessible to the public.
Given the COVID-19, outdoor Squash is rapidly becoming a solution to helping the sport in the lockdowns with venues forced to shut down to prevent infection.
The UK needs to establish outdoor Squash courts soon to keep the interest of alive during the pandemic, as people who the love sport will become rusty in playing.
Final Thoughts
We are now in the new normal, something that is a wording that becoming popular in society.
In terms of Squash, the sport needs to build upon the technological innovations that take place indoors with other initiatives to maintain the interest of sport.
From a grassroots perspective, the solutions mentioned can implemented to help foster a new generation of squash players in the post-COVID-19 world.
Let hope come 2021 that Squash can be at the forefront of people's minds as a sport that can help health and much more.