When it comes to the sustainability of Squash provision across the world, there have been a strong number of innovations to help boost participation in the sport.
If you have been following Squash in the last few years, you may be thinking of InteractiveSquash and the rise in popularity of outdoor Squash – both of which are both great, but how about looking at other types in the context of non-sport buildings, as a means to keeping the sport indoors.
Despite this, in the past five years, many Squash members have seen local Squash courts closed down, to make way for new fitness studios or classes or venues converted to become residential accommodation. Obviously, the pandemic has not helped the cause of Squash provision, with the closure of leisure centres.
When Squash provision is removed from a leisure centre or a commercial health club, it is not good for the sport in general.
As we are in a new normal, this is something that needs to be addressed in the sports development department of local authorities or the management of the venue, as consultations with Squash members in order to make sure there are new opportunities for them to continue to play Squash locally.
Nevertheless, it takes a bit of imagination to make new Squash provision in a community or city dwelling.
Repurposing of old buildings for community Squash benefit
Well last year, there was intriguing Squash development in Sweden with the launch of a new venue in a rural community in the form of a barn conversion into a modern-day Squash club. Known as Racketladen, the venue is the first of its kind in Scandinavia.
Developed by ASB Squash Courts, they have come up with a great Squash venue design for the barn conversion and could be the benchmark for building conversions to Squash courts – should it become a trendy way to make use of old farm buildings in a change of use.
The UK has a striving farming community, imagine taking an old barn in Sussex or a rural part of Yorkshire and converting it into a modern Squash club; planners would see it as a great benefit to the local community.
Meanwhile in the stylish town of Hammersmith, West London, a state-of-art mixed urban community space called Assembly London developed in 2017 is home to a full-sized Squash court.
Originally, the site of the Assembly was the head office of Harper Collins, and AXA Real Estate Investment Managers developed the venue in 2017. Ironically, the venue is not very far from both Charing Cross Sports Club and Hammersmith Fitness and Squash Centre; both of which have Squash courts.
From a fan perspective, you could say anyone who lives or works in Hammersmith has plenty of Squash to access – especially with a great choice of venues.
Anyone for residential Squash
Obviously, a Squash venue has to be brilliant in design and architecture; but property developers have found new ways to make their building financially sustainable and bring more engagement, and this has a new reimagined way of Squash playing opportunities.
So imagine having the chance to Squash actually on your doorstep and not leaving your actual home.
An article in Forbes, a US publication, highlighted that Squash courts are necessary must have amenity in new buildings located in New York.
As we, all know Squash is going through a revival in the US; hence, the country is looking at innovative ways to improve the accessibility of the sport through mixed used amenities.
Some of the latest developments in Squash provision that have sparked a major revival of sport are a squash court at One Manhattan Square on the Lower East Side. At this venue, residents can take lessons from professional squash instructors and sign-up for the in-house squash team arranged by developer Extell.
The One Manhattan Square development, it is 50,000 square feet of indoor amenities, and the Squash court is a part of a residents-only sports club.
Extell's other property development in Downtown Brooklyn called Brooklyn Point also has a squash court – unlike One Manhattan Square development this venue has InteractiveSquash, but mixed with Basketball – either way it is great for residents to experience both sports without travelling too far.
It's not only apartment complexes based in New York with Squash courts – Squash fans in the US have developed their provision within their own homes.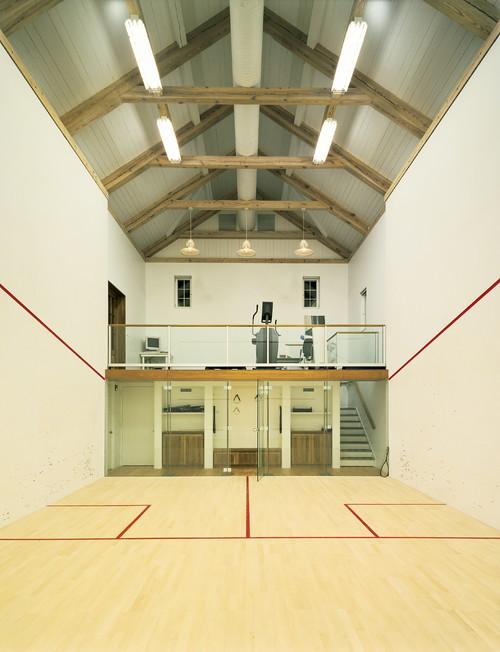 For great home based Squash courts visit: https://www.houzz.com/photos/squash-court-phbr0lbl-bl~l_143255
This could happen in the UK – well with so many apartment complexes being built in urban areas such as Croydon, South London – it would be good to see a high-rise apartment complex house one or two squash courts for residents with access to community sports groups, as a means to bring community engagement and save the sport too.
Overall, these are ways to keep playing Squash alive and prosperous.
Yes, cost maybe factor along with accessibility either way people are still participating in the sport and getting valuable health benefits from it.
Final Thoughts
When it comes to Squash provision these examples are a great way of making the sport more accessible to people – especially those who want to play in different types of venues.
If you have watched Field of Dreams, a baseball movie – to quote a reference from the film, "if you build it they will come" – the same applies to when creating Squash provision in places that with a purpose for community use.
Just like any other sport, Squash needs to be more accessible to people who love the sport and want to get their friends or family playing; so whether it is indoors in a converted barn or outdoors in a local park.
This will truly help boost the sport in terms of popularity, in addition, highlights to the world Squash is on the same par as any other sport.