Following news that Squash is now one-step from being in the Olympics, the spotlight shifted on the World Junior Squash Championships.
Although Squash is going to showcase event at Youth Olympics, it allowed squash fans and enthusiasts, an insight of what to expect at the event next year. This year's tournament took place in New Zealand in a glorious paradise location called Targuna.
As many people know, New Zealand is more famous for Rugby – little known fact, their most famous is squash player is Leilani Joyce (nee Marsh), who is former World No. 1, who squash CV includes:
16 WISPA titles
2 time British Open titles (1999, 2000)
2-time runner-up at the World Open
Commonwealth Games Gold medals in both women's doubles & mixed doubles.
For all the young squash players, not only do they have the experience of representing their home nation but an opportunity to compete against other squash players from around the world.
This year's roster of competitors for hosts nation New Zealand, included Australia, USA, Canada, Egypt, Malaysia, PNG, France, England, Germany, the Netherlands, Wales, Scotland, Ireland, Colombia, Mexico, Japan, India, Pakistan, Hong Kong, China/Taipei, Spain, Italy, South Africa, and Oceania.
Looking at all these nations, each one has strong squash grassroots programs; hence, it was hard to say who the favourites were.
From junior star to senior professional
Just like British Junior Squash and the CASA Junior tournament, the World Squash Federation's Junior Championships are a launchpad for any junior squash player to showcase their talent on the world stage, before going on to play professionally.
Some of the current senior squash players on the PSA roster have played and won at the World Junior Squash Championships:
Nicol David – (Malaysia) Ladies Champion 1999, 2001
James Wilstrop (England) – 2002 Men's Champion
Omneya Abdel Kawy (Egypt) World Junior Champion 2003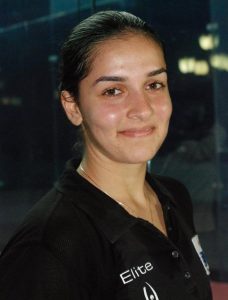 Ramy Ashour (Egypt) 2004/2006 Men's Champion
FACT: Egypt's Nour El Sherbini is most successful Ladies World Junior Squash champion with a record 3 world titles and turned pro at 13 yrs old.
Potential impact on Youth Olympics 2018
Egypt completed a treble by winning both male, female and team titles.
Egypt's Marwan Tarek and Rowan Elaraby won both the Men and Women's titles.
Could this be the sign of which nation is the best Squash? No, as other nations such as Barbados and Jamaica, did not participate in the tournament, as it would have been great to see the likes of Meagan Best (Barbados) take part in the World Junior Squash tournament and the 2018 Youth Olympics.
So, is the World Junior Squash Championship a sign of what to expect at youth Olympic Games in 2018? YES, as the young players now have the added intrinsic motivation to keep on playing squash well into their senior years.
Final Thoughts
Any young squash player winning the World Junior Squash champion will not only help boost junior career, but improve their chances of winning a scholarship should they go to university and compete in other junior level squash tournaments such as the World University Squash championships.
From a business perspective, the success of any junior Squash player that wins a World Junior Squash title could bring a lot of coverage to their country, in addition to their academy and the venue they are based, so its a win-win for all parties involved grassroots development of the sport.
Compared to tennis or badminton junior tournaments; the World Junior Squash Championships are a great testament to the grassroots development of squash and long may it continue.