Not only was this year's World Squash Day its 20th anniversary of the great campaign in raising awareness of the sport, but it was a prominent day for our sport in the form of major nations putting on events to celebrate our sport.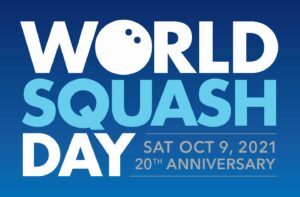 As for us, well, we had plans in place but had to cancel due to financial difficulties – either way, we showed our appreciation for our Squash friends across the world who put on open day events inviting the community to play and socialise at a local squash club.
With life returning back to normal, there were some brilliant stories online of Squash fans across the globe who came together in a fellowship at their local Squash venue to play together without any tough social distancing rules in place.
Global Squash party from all continents
Some of the highlights that have made the 20th Anniversary of world squash day memorable were:
Egyptian juniors put on a strong show
On the eve of the Black Ball Championships on 9/10 October, there were loads of smiling faces in a photo shoot outside the Black Ball Sporting Club in Cairo, one of the world's most spectacular squash venues.
This was not only a brilliant photo opportunity for the next generation to be a part of our sport global campaign on the day of promoting Squash, but they say took part in their country's most prestigious Squash tournament.
Inaugural Outdoor Squash match
For the first time ever, an outdoor Squash event World Squash Day held on Maspeth Steel Court, New York.
Taking part in the first ever-outdoor Squash exhibition game were Egypt's world No.2 Mohamed ElShorbagy, along with Indian stars Saurav Ghosal and Joshna Chinappa, and New Zealand's Joelle King playing a few games on a unique squash court made from steel, plus build to the dimensions of an actual championship Squash court.
The significance of the exhibition was to help the plans to build more open-air facilities to increase the visibility of the sport.
Already there are plans are in place for the development of two outdoor Squash courts venues in Chicago and another at our favourite outdoor Squash venue the four-court in El Salvador. The project has received the support of the PSA Foundation.
Let us hope the development of outdoor Squash courts continues, notably in countries that have good weather all year round.
Africa promotes Squash talent
Meanwhile, on Facebook, the Squash Federation of Africa shared a number of short videos of their top players talking about what the sport means to them.
We were pleased to hear Jean-Marie Besombi talk about his Squash story and what the sport means to him:
Watch the full video: https://fb.watch/8xEt7cidvb/
Jean-Marie is one of the Congo's leading Squash players and we look forward to seeing more coverage of him on Squash come 2022.
Besides video these shorts from the Squash Federation of Africa, one of their leading community venues – the Jacob Esuene Squash Club hosted a World Squash Day event in their local community.
These pieces of content have been ideal in promoting their talented Squash players to young people; especially as the country is looking to become a major force in the sport on the world stage.
UK Squash big reunion
Now if there is one way to bring people back to Squash is organise a reunion – this was the theme of the majority of venues in the UK.
From seeing a number of Squash clubs on social media in the UK there was plenty of Squash action with friends reuniting over a game of Squash.
As an added bonus there was a national football match showing on TV, so you can imagine the social atmosphere in the squash clubs bar area.
On the downside, it is a shame Sprintz Leisure is not around to have a reunion with us on World Squash Day. This is something that our founder was hoping to do with them, given his long association with one of Walsall's (including the West Midlands) most unique independent standalone health and squash clubs.
Final Thoughts
Overall, this year's World Squash Day was a great showcase for the sport and sent a clear message to everyone who knows little about the sport that Squash is a brilliant activity to take up whether you are young or old.
Upon reflection, it's hard to believe that World Squash Day has been going on for 20 years and what Alan Thatcher & his team have created deserves some of form honour.
To sum up, next year is Commonwealth Games in Birmingham and with the momentum from 2021 World Squash Day, there is no doubt that our sport is in good shape to progress further in the mainstream of the hearts and minds of the global sporting public, especially in the UK plus communities in participation is low.