Squash is a game that will require strenuous feet and ankle motions; whether you are junior player at an academy or junior competitor it is essential to be extremely flexible, agile, with fast reflexes and fluid movements.
For that reason, being comfortable with a decent pair court shoes are needed to ensure their flexible grip on the floor without restricting your motions, and help protect you from the damage to your feet.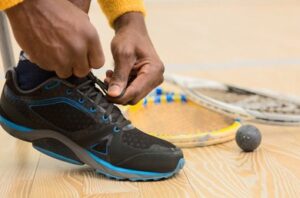 Following lockdown, there is a chance your old Squash shoes could have a build-up of mildew and subsequently they are not suitable to wear plus you want to comfortable when playing again.
Stick to your exact shoe size
You should start by examining your own shoe size. The proportion you need to look out for is simple: for those who have slim ankles, don't select larger shoes for they will certainly come loosened, and impair your movements. People with healthy ankles, however, should not purchase a size that fits them too securely for this could cut-off the blood circulation to the foot, evolving into more serious medical problems. Your shoe has to be the right size, neither a size bigger nor a size smaller.
Likewise, the toe size of the shoes needs to be exactly correlated to your own. Padding is an additional problem in terms of deciding on the shoes. It is said that the older you are (or the heavier) the greater cushioning in your shoes you would likely need.
Unlike your typical trainers, with Squash shoes, are designed with a good quality in mind, plus give you amazing padding. Along with insoles and particular squash socks are there to help you along when playing a game. Before choosing anything, you need to explore the size info on the product properly.
Variety of shoes on the market
Like Squash's racket cousin Badminton and Tennis, there are many brands, which create squash shoes for Squash players, but how to pick which brand, and further, which kind of shoe array will suit a player? Let us look closer into this challenge and try to aid you choose which are the best squash shoes for you.
When it comes to design, select a pair that gives you a look of confidence and style when playing – remember if you are junior player, choose wisely and don't for a pair because your friend has a similar pair.
Nevertheless, the huge assortment of Adidas, Asics, Ashaways, Dunlop, Karakal, Hi-Tec, Prince and so many more may bamboozle you.
Many Squash pros always look for shoes that give "The ultimate shock absorption" and "legendary cushioning affect", both of which is a good summary for the Asics GEL indoor shoes.
In a one review it was said the Asics GEL indoor shoes are deemed extremely popular with many squash players.
Oddly enough, based on numerous squash shoes reviews, Prince has been a fantastic brand name for prime quality grip and durability. Most people encouraged this company, pronouncing the shoes as lightweight and very comfortable. These shoes however, triggered trouble for people with high instep as well as, wide-toed persons.
If there is one brand of Squash shoe that stands out against other brands – it is Head Radical Pro II; with this style of Squash shoe has been created to increase (or perhaps test) the individual's stamina – many Squash pros wear Head products.
Hi-Tec squash shoes are said to be the shoes that are full of "game changing technologies." As the reviews suggest, this company doles out shoes generally for the comfort of the consumer. But a few people were seen to be overall unhappy with its durability issues and due to it being "simply too light and easy."
Ironically, given the town in which our great sport was born, Harrow there's a Squash shoe brand named after it.
The Harrow brand was apparently popular in the US, as the Harrow Volt Indoor Squash Shoes are original in terms of flexibility, durability, comfort, and ease.
In one review of Squash shoes, the Harrow Sneak Indoor shoes eliminated competition of all types in the court! Supple, lightweight, comfortable, flexible, and fashionable, these shoes make certain an excellent grip and boast some remarkable shock absorption for the toe and cushioning for the ankles. Its structure is such that it boosts sturdiness and reduces the probability of foot strains, sores, or stumbling.
In recent times, when it comes to other brands of Squash shoes Salming, a Swedish company have become the go to for Squash courts given their design – their Salming Kobra 2 range has been designed for high performance and a safe movement as well.
Final Thoughts
When it comes to looking for a decent pair of Squash shoes, always look at shoes with reviews, commenting on how the shoes tend to be heavy and rigid and cannot be endured for a long period – thus not suggested at all for individuals that want gentle easy-going games!
However, because of Covid-19 your health is going to play an essential part in whatever court shoes you purchase are well looked after and are clean – as you do not want a smelly shoe or have sweat from previous worn socks cause a bad smell, which puts off your opponents and lingered throughout the Squash venue.
To sum up, Squash shoes must be replaced on how often you play – for instance, a squash player that plays three or four times a week may find that they will need to replace their squash shoes every six months. Five or six times a week and it may be more like every three months. Once or twice, and every season should be OK.
When selecting a Squash shoe always select one that helps with your performance on court and gives you comfort when you playing before and after a game.