With the 2019/2020 season nearing ever closer the world squash has been busy with exciting developments both in the UK and abroad.
On the plus side, this month was National Fitness month and England Squash excellently produced an infographic promoting 10 reasons to play squash:
Now if this does not get people playing squash at their local club or join a meet-up group, then there needs to be more encouragement by local sports developments department to inspire people of all ages and abilities to take up the sport.
In terms of our top five stories news in the world of squash, here they are:
UK Ladies no.1 becomes head squash coach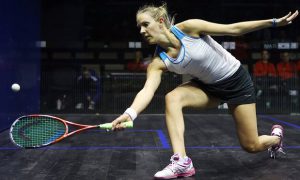 Now we have a lot of admiration for Laura Massora and was pleased to hear that she taking up a squash coaching role with Lancashire Junior Squash and working with working with husband Danny at David Lloyd Chorley, but she is going to mentor to next generation of squash players too. In our opinion, she deserves a New Year honour come 2020.
Click here for full story
Seventh grader become a squash in Cincinnati
In the US, a young up and coming squash player name Bienvenue from Rwanda, did not know much about the sport and thought it was fruit. He joined the Cincinnati Squash Academy and discovered squash is not a fruit but actual sport. He is now a national squash champion title and is looking to use his success to obtain athletic scholarship and go onto College.
Credit: CPS Athletics – YouTube
Growth in Live action Squash TV
Now as corny as it sounds, Squash fans will be able watch over 500 live action from tournaments via the SQUASHTV, Eurosport Player (Europe only), DAZN (Japan only)and also PSA World Tour official Facebook page. This good for the sport globally, but for fans in there is could a demand for the sport be show on a free-to-air channel.
Click here for more details on 2019/2020 broadcast announcement
Egyptian ladies do battle in 2019 China Open final
Nour El Tayeb, won the 2019 J.P. Morgan China Squash Open of the PSA World Tour Gold tournament after defeating the world's top-ranked player Raneem El Welily. With Nour, she is ranked number no.5 in the world and played a great match against her fellow champion.
Local Squash duo break longest non-stop squash rally
In Montrose, an town in Scotland two squash players broke an existing record at the Montrose Sport Centre, for the longest non-stop squash rally by reaching 3,606 strokes in one hour 16 minutes which surpassed the previous record by 198 shots, which was held by fellow player at the same venue. One the exploits of the players helped raise money for Nyumbani HIV children's charity in Kenya.
Click here for full story
Now these news stories about demonstrate how the sport is doing good and changing opinions of people who have less understanding of the sport in general.
Without sounding too soap-boxy, but it is good to see Laura Massora giving back to the sport, in the form of coaching and mentoring. In addition, Bienvenue's story will serve as a catalyst to inspire children from Rwanda to take the sport in the country.
Overall, these stories can serve as an inspiration for getting people into the sport regardless of their cultural background.