With the lockdown extended for another 3 weeks, there are Squash fans who need a Squash fix;  we have identified 5 activities that Squash fans across the globe (including the UK) can do keep their interest in the sport alive:
1. Devise your own make shift Squash court 
With rules of social distancing in place it has made hard for people to play Squash, to combat this find a wall and practice your drills like these ardent Squash fans in this video:
2. Live workouts with Squash professionals
Now the most common activity that people of all abilities have been taking part in as result of the pandemic is online workouts via Facebook Live or on Zoom: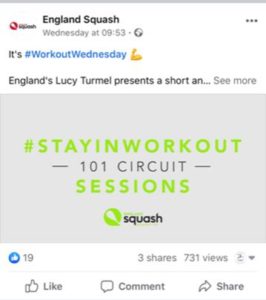 This has been an excellent activity for recreational players to maintain their fitness levels, as most of the Squash pros and coaches have sharing their workouts tips with them and other fans of the sport.
3. Watching Classic Squash matches
We have always stressed about live Squash matches broadcasted on free-to-television channels – thanks to YouTube you can watch matches from years gone by. If you are on Facebook visit PSA World Tour page as they are showing matches from the last decade with a series called PSA Rewinds:
4. Movies
If you are movie fan and love Squash? Then threat no more, Sportageous, our friends in Australia, identified 3 Squash movies that are worth watching:
The Marksman – James Willstrop
Becoming Wolf – Nick Matthew
Serious Squash Presents: Trailer for Mastering Deception
5. Books
In the last few years, there have been some good books on Squash. It widely known that reading is one of the greatest pastimes for many, especially when you need a break from the television – now if you are a fan of reading, then we recommend the following books on Squash:
A Squash super season
There has been no mention of when the 2019/2020 Squash season will recommence. Some major tournaments are postponed until 2021, thus a financial loss and a setback for some.
Maybe there could a Squash super season of back-to-back tournaments played over a month.
To sum up, from a humanitarian perspective, this pandemic will make people think a lot more in the form of human kindness and have a different perspective on life. Overall, this lockdown made people from the Squash community by sharing engaging content of maintaining their interest of the sport with family.
Let us hope the Squash season starts up again soon.