Shortly before Christmas, I embarked on a visit to Walsall, for a reunion with an old Squash buddy – Dave Lepper, Managing Director of Sprintz Leisure Ltd.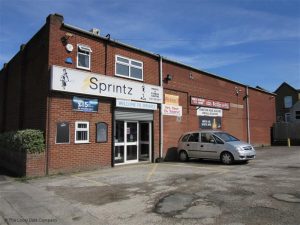 Following a chat with him and Declan Sheehy, Sprintz's Assistant Club manager; we agreed to join forces with them in a strategic partnership and alliance to develop Onyx Squash Academy Walsall, for their Sprintz Health & Fitness Club.
This partnership is a win-win for both parties – for me, I have always wanted to have a national marketing collaboration, in a location with a strong diverse community to build a grassroots sports development legacy.
As for Sprintz Leisure Ltd, it will allow their Sprintz Health & Fitness Club to capitalise on its rich history of squash participation having won many leagues in the Midlands.
A rainy night in Wednesbury
So how did I get to know about Darlaston's most unique health club? Well, it was May 2001, as a student at the University of Wolverhampton, before the days of Google and Smartphones – I looked at local Yellow Pages for a local health club, to do a short work placement for a module for my Quality Management degree; thus, I came across Sprintz Health & Fitness Club, in Darlaston.
Being from London, I had no idea where Darlaston was and I made the 5-mile journey to visit the place from my home and met with Dave at the club. From there, we built up a professional relationship, which lead to a strong friendship when the placement ended.
Dream goal achieved a decade earlier
Ironically, a few years I became their Marketing Manager and contributed to running the club with Dave, from 2004 – 2006.
Oddly enough, I set myself a goal of being involved or running a health club when I reached my 30's – but achieving it a decade early was a good thing as I had no responsibility and was highly motivated to do it – despite a few cynics telling I could do not it, for reasons I don't know except jealously.
From my time working there, I gained the thirst for entrepreneurship for health clubs, an industry I first entered in 1996 at the age of 17years old, whilst studying for a GNVQ in Leisure and Tourism.
Working with Dave and his family at Sprintz was a great experience for me; especially as it was a great way of capitalising on my health club experience working with Cannons Health Clubs (now Nuffield Health) in London and Windsor.
As a result of my marketing skills, we managed to obtain positive press coverage in the local press (above) for any events at the club. Overall, this helped boost awareness of the club and attract a lot of new members to the venue.
Partnership in the making
Like most business partnerships, you do encounter problems – thus this partnership has been a long time coming between Dave and myself; but was delayed mainly due to personal setbacks on my side, which have seen the Onyx Squash Academy fail before it was launched.
Nevertheless, the New Year begins a new chapter in the existing association and continues a working friendship that came about 15 years ago, because of a student work placement because of finding a health club via the good ole yellow pages.
Now the problems are behind me, fast forward to 2017, myself and Dave are much older, wiser, and more determined than ever; this time after a decade, we are reuniting this time in a unique London/West Midlands business collaboration, with a long-term objective to develop more junior Squash opportunities for the next generation of Squash players. Furthermore, look to provide guidance to young people, and create community cohesion and business sustainability for Darlaston.
As for plans for the London collaboration, well, I am still on the lookout.
Blog post by Jermaine Ranger, Founder/CMO of Onyx Squash Academy