In our effort to change the narrative with Squash for 2022, we have recently taken on another talented Squash player from the Congo – Freddy Nzama Mwimbi.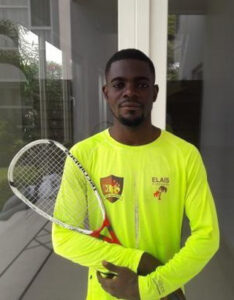 When it comes to Squash the Congo is one of the many emerging countries in which the sport is becoming popular and has the potential to become of Africa's many talented nations in Squash.
Furthermore, Squash in Africa is becoming popular again thanks to the like of social media and other forms of digital communication.
With Freddy, his story into Squash it is unique and is one that will be talked a lot by many and serve as inspiration to young Squash players from the Congo.
Inspired by an Squash senior
It is thanks to my old man from the neighbourhood Bianco Kibuila, he encourages young Congolese to practice squash, that I made the discovery squash, because he is the Congo DRC champion of the federation, I saw him playing "This game" which, each time, captured my attention. Finally, I started to practice it in me.
In Congo the king of sports is football as the engines are also quite well involved and is very popular among the Congolese.
Many sports centres exist in Kinshasa capital of the country and in the cities, which encourage the practice of different sports activities and disciplines there is something for all tastes, from the most classic sport such as Swimming, Football, Tennis, and most importantly Squash.
Becoming a Squash player on merits
As a squash player, the day revolved around me only, in my country now it does not. I look for an opportunity to improve my squash technique and behind the trainings of my international squash dreams and find a sports partner to motivate me why not a squash club I get my body used to the discipline of physical exercise regular no matter what he give me. I like squash, despite my local hat, which makes me grow every daydream of playing or training and at the international level one day. I play squash.
In addition, little by little, I noticed that I started to find myself again despite the difficult conditions in our country. I know that people talk a lot about me; in good as in bad, what I want to do for Congolese squash is to enlarge it and raise the profile of the sport too.
Participants in several tournaments organized in my country Democratic Republic of the Congo local
Friendship Tournament
Congo International Open
XXL Energy Brancongo tournament
My goals are to develop my squash talent, I want to play international squash, and do the UK squash training with a professional mentor.
Let us collaborate to help Freddie
The goal of our talent support programme to help Squash players, just like Freddie and his fellow countryman Jean-Marie Besombi reach the highest ranks of Squash and become a recognised sports athlete both domestically and globally.
Like most Squash players, gaining support is essential for growth and development hence we as company are going to help Freddy on his journey to become an international athlete but we cannot do this alone.
Now here is the pitch.
We are look for companies with an international audience, which can sponsor Freddy on his mission to train and play Squash in the UK.
You may be thinking, what does the company get in return? Well, in return you will receive acknowledgement in our content on Freddy's successes as a means to enhancing your brand awareness and reputation.
Plus, if your brand has a strong social media following we can tag you in any content from our social media channels, as we will be showcasing Freddy's training sessions in the form videos discussing Squash in the Congo – all which in our mission to create more awareness of Squash in emerging countries.
Get in touch with us about sponsor Freddy in goals please contact us via info@onyxsquash.org.uk to discuss the opportunity for helping a future Squash champion achieve his goals.