Continuing on from a look at Squash in Caribbean, we turn our attention to Barbados with a look at the Barbadian Squash team.
The country has a strong junior team and gone on do well because of growth in popularity of the sport.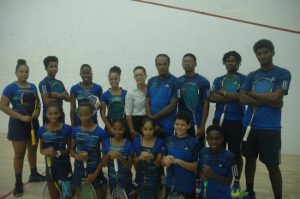 Like the Jamaican Squash team, the Barbados Squash Association (BSA) has a built a strong squash development programme for young people, from which their junior team is quickly becoming a team of serious contenders in regional CASA championship tournaments at junior level.
Origins of Squash
So where did it all begin? Oddly enough the first ever national squash champion from Barbados was in 1975 and was won by Bruce Tudor – with went on to win the national title 2 more times, as for the women's division the inaugural champion was Tanya Tipping, also in 1975.
Well, like Jamaica, Barbados has a rich heritage of sporting heritage and produced a number of talents who have gone to households names across the world – the most famous sporting hero is Sir Gary Sobers – cricketer, who played for the West Indies and scored 365 not out and establishing a new record for the highest individual score in an innings. In addition, Sir Gary, the other famous Barbadian cricket legends were, Sir Everton Weekes, Sir Clyde Walcott, and Sir Frank Worrell.
There are other sporting heroes from Barbados who take in Football, Tennis, Athletes and even Badminton, but the country is most famous for its Cricket legacy.
Current generation
The current senior players who are inspiring the next generation of junior players are Shawn Simpson, Meagan Best, Rhett Cumberbatch, and Amanda Haywood.
With Shawn Simpson, he has gone to become most successful male squash singles champion in Barbados with nine titles with Meagan Best making excellent progress from junior squash to become the national women singles squash champion on two occasions. Karen Meakins is the most successful female national squash singles champion in Barbados with 12 titles to her name and now is a successful coach.
The Cumberbatch's – Barbados successful Squash family
With Rhett Cumberbatch, he comes from a squash family, with his three brothers – Gavin, Bryant and Khamal; they are the most successful sporting families in Barbados, not only do they represent Barbados in squash, but between them they have won over 50 national junior titles, five senior national titles and 13 Caribbean Area Squash Association (CASA) titles. Overall, this is very impressive sporting accomplishments and quite unique in Squash.
Local participation is the key to future growth
Recently, the 43rd Barbados National Squash champions took place for players at Senior and Masters level – overall, this type event helped boost sports tourism in the country and showed that Squash is one of its key sports.
Like any other most countries with a growing sports landscape, there is a great expectation of seeing a Squash world champion at senior level, both male and female plus if the IOC comes to its senses, even coming Olympic Champions of Squash.
In the meantime, it is evident that Barbados will continue to churn out excellent junior squash players, who can go on to play in regional tournaments and hopefully world tournaments such as junior British Open and World Junior Squash Championships.
To sum up, just like Jamaica let hope to see Barbados competing on global scale at PSA sanctioned tournament and perhaps host a PSA sanctioned tournament – this would truly put Squash on the map and inspire others to take up the sport.