March marks International Women's month, is a truly global event recognising the achievement of women throughout the ages; in context of Squash there have been many great players from across the world; so on 2021 International Women's Day, we look which nation is the greatest at the sport from a ladies team perspective.
Over the years there have many milestone achievements in ladies Squash, notably the First Ladies Squash tournament in Saudi Arabia in 2018, Saudi Arabia hosted the first ever women's squash tournament in Riyadh; the tournament came about the reforms led by Crown Prince Mohammed bin Salman that include a lifting of restrictions on women.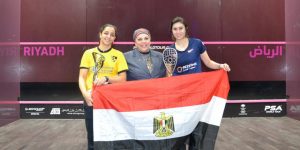 Many years to this, Heather McKay of Australia became first (and only woman) squash player to win the British Open championship a record 16 consecutive times from 1962 to 1977, an feat that has not matched in even the modern era.
In general, Women's Squash has come along way with a number of accomplishments and grassroots initiatives to bring more women to the sport, long may it continue.
Title, medal across the tournaments
From a team's perspective, the question asked which nation has the best women's Squash team?
Now, individually Nicol David of Malaysia is ranked the greatest women's player of all time and of her generation, nevertheless in terms of the women Malaysian squash team titles, their form in the World Team Squash Championship has proven fruitful with no less one silver medal and 4 bronze medals.
So, who is the most successful women's Squash team in the World Teams Championships? The top 3, in chronological order:
Winners/Runners-up
1. Australia                  9             5
2. England                   8            12
3. Egypt                       4              1
When it comes to the women's European Squash teams Championships, England seems to leading the way over their European counterparts:
England:  42 medals (40 Gold/1 Silver/1 Bronze)
Netherlands: 21 medals (1 Gold/12 Silver/8 Bronze)
France: 12 medals (1 Gold/6 Silver/5 Bronze)
Ireland: 17 medals (14 Silver/3 Bronze)
Germany:13 medals (13 Silver/6 Bronze)
Scotland : 11 medals (1 Silver/11 Bronze)
However, from the Asian Squash Team Championships – Malaysia are the Queens of Asian Team Squash, with more gold medals than Hong Kong:
Malaysia: 15 medals (9 Gold/2 Silver/4 Bronze)
Hong Kong: 15 medals (4 Gold/8 Silver/3 Bronze)
Singapore: 7 medals (3 Gold/3 Silver/ 1 Bronze)
India: 7 medals (1 Gold/3 Silver/3 Bronze)
South Korea: 2 medal (1 Silver/1 Bronze)
Totalling up all the titles from the European, Asian and World Squash Teams tournaments, the top five women's nations of all time, based on medal tally performance across all three tournaments:
England: 60
Malaysia: 22
Netherlands: 21
Ireland: 17
Hong Kong: 15
Now, this illustrates which country is great at Squash, oddly enough England has an excellent provision for juniors – providing there are no venues shutting down because of bull-shit bureaucracy by leisure management companies, there will continued medal success.
If judged on individual titles won by women in Squash, Australia, England, and Egypt would come out on top along with Malaysia in the top five of successful women Squash players.
Getting women to continue play beyond grassroots level is proving to be a challenge as there needs to more information for them to understand how the sport can benefits them in the long run, rather than short-term.
Final thoughts
As we gradually get back to normal in a post-Covid 19 world, you can expect some of the form newness with Squash in terms of playing both recreationally and professionally; we are in hope that the sport becomes the beacon of all sports for it health benefits for young people.
Hopefully, one day the emerging nations such as Jamaica, Barbados, and Guyana can challenge England and Malaysia for the best women's Squash nation, along with Zambia, India, and Egypt with a world Squash team competition.
Furthermore, there is a lot more uptakes in young people taking up the sport with a view to becoming professional but see as sport in they can learn about each other cultures instead listening to the hate on social media platforms and push for the sport to take its rightful place in the Olympic Games.