Every junior Squash player looks to enter the professional ranks, we look at the major global and regional junior tournaments, which will help promote them to the worldwide audience.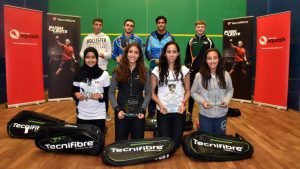 Looking at the current senior professionals on the PSA circuit, some have participated at one time in a regional or county or a junior Squash international tournament- as a means of representing to prepare their mindset to play in a major competition at a young age.
As a company with strong values in community cohesion, we strongly believe that squash is a great game for bringing young people of nations together to meet one another through sport and build friendships.
On a regional and county level, Squash can be a great sport for young to play and also make a difference in their future growth – in terms of education choices and professional growth.
Global Junior Squash tournaments
Like the World Squash Junior, British Junior Open, and CASA Junior tournaments, all of which are described as great global and continental tournaments, however the other prestigious global junior squash competitions that introduce young players onto the world stage are:
US Junior Open – is considered the largest junior squash tournament in the world. In 2014, the tournament hosted a record field of over 900 players representing over 20 countries. Egypt has successful boy champions, with the US with the most girls' champions.
Famous alumni of this tournament – Amanda Sobhy (USA) and Sabrina Sobhy (USA)
The Hong Kong Junior Squash Open – this tournament is organised by the Asian Squash Federation and the Hong Kong Squash Association. It is one of the four Tier 2 squash events, which is used in the world junior rankings and attracts over 500 players every year.
Famous alumni of this tournament is Ollie Holland (England)
European Junior Open – an annual tournament organised by the European Squash Federation, which open to squash players aged under 15 and 17 to play in team championships and under 19's to play in individual and team championships.
Famous alumni of this tournament is: Sarah-Jane Perry (England).
Regional and County Squash tournaments 
Just like the London Youth Games, which features Squash as one of its many events – England Squash hosts national and regional Junior Squash competitions for young people under 11, 13, 15, 17, and 19 age groups. With each tournament it is the ultimate launch pad to county and national success:
Junior Inter Club Tournament – a county competition for the best junior county squash players, which allows counties to highlight their talent from their development programmes.
English Junior Championships – held every March in Birmingham, it is a Gold event attracting 260 of the best players in England.
Another junior squash tournament held in the UK is England Squash sanctioned National Schools Championships, a school-level squash competition; which allows school squash teams the chance to chance to play competitive squash against other schools.
UK participation to increase
Recently it was announced that the great city of Birmingham has agreed to host the British Junior Squash for the next 3 years; as a company that has strong roots in the West Midlands, this is good news for Squash as Birmingham is a place with a vibrant with culture, in addition, a great central location for the sporting region.
Furthermore, England Squash is in line to receive funding from Sport England in the £7.9m, which will make a significant difference in creating more squash initiatives and hopefully boost existing squash programmes.
With this funding, it would be great to see a broadcaster look about capitalising and showing more coverage of Squash on free-to-air-channel, such as the BBC or even a Freeview channel.
Oddly, the Squash world is getting ready for the 2018 Youth Olympics; it may not be the official event – regardless it is the greatest opportunity for Squash to shine. Overall, this has been one of the major highlights for the sport in the last few years in terms of marketability and with news of more developments – the future of the sport looks good.