It has been months since our partnership with Kawambwa Squash Club began, so far, the project has been going well, and in this blog post Chris, the Squash coach shares his story on the project so far.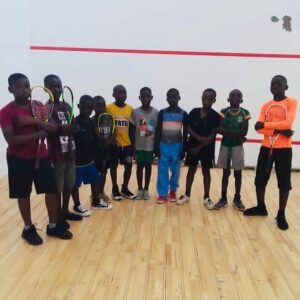 When it comes to Squash both Agness and myself are fans of the sport, in early 2020 we decided to establish our Squash club to help young people in the Luapula Province of Zambia, our local community.
Our vision was to introduce young children aged six & over from our local community the chance to learn how to the sport and hopefully go to compete in local tournaments around Zambia.
Throughout the process of establishing our venture, we realised we needed partnerships – however, it was until Agness joined a local Squash Facebook group; we soon knew there was chance to network with fellow squash enthusiasts across the world.
Whilst networking, Agness came across a representative from the Onyx Squash Academy, despite being located in London, England; she approached them and asked for help in securing equipment for our little Squash enterprise – to out amazement one of their team responded with an answer.
Despite useful the advice, Agness got a follow up email asking how she got on and whether we needed more support, we said yes.
Nevertheless, given the international distance between them, and us they came back us with the prospect of becoming their first international partner, as one of their founders was intrigued about our plans.
Now this was odd as neither Agness nor I imagined this kind of opportunity; however another email stated the company wanted to help in any way, as they believed in our dream and their vision fitted in with ours in developing more opportunities for young people.
First Invitational tournament
Just weeks into 2021, we took part local Squash tournament – the Ndola Squash Invitational tournament, in the Copperbelt Province – a well-known competition in which Squash players of all abilities compete to win prizes.
For the tournament, we entered a few members of junior team, and one of them progressed into final semi-final – something we are extremely proud off given our initiative is quite young; regardless it shows us anything is possible if you believe in yourself.
This development was shared this news of this accomplish on our Facebook page and on the Squash group; that one of our team first made contact with Agness about a partnership.
I hope that we hope that more of our juniors from the Kawambwa Squash Club enter local and even regional junior tournaments, as we reckon it would be a great way to raise the profile of Squash in Luapula Province of Zambia.
Young star in the making
From our talent stable, there's already been one junior competitor who has shown promise in becoming a future Squash champion – Gift, he is one of the our many students training with our enterprise. Currently, he is in Grade 6 at school and enjoys all sports especially Squash, and he is massive fan of Basketball.
His goal is to become African champion in squash and be a well-known squash player from Zambia, plus he aims is to compete in a PSA juniors squash tournament.
Plans for future
Even though we have been established for just under a year and getting over the worst of the pandemic, we are going ahead with our plans for more junior Squash initiatives in our community with the help of Onyx Squash Academy and hopefully soon a title sponsor.
With World Squash Day 2021 coming up in October, we have already discussed plans with Onyx Squash Academy to have a event in our local community to showcase Squash and attract more young people to the sport as a means to get involved in playing.
Beyond World Squash Day, we intend grow participation amongst young adults too with Squash as a part of plans for them learn about the sport and eventually become coaches/mentors to young stars, which in turn can help us grow the sport further in the Luapula Province of Zambia and be the benchmark for sport in Zambia too.