Just like Squash's racquet cousins, the strings on the racquet are crucial to your performance in a Squash game; with different dynamics and features to choose from – when it comes to selecting the perfect Squash strings is essential to matching your squash equipment to your method of play.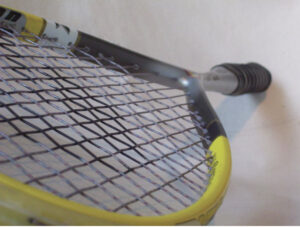 Squash string tension can be used to your advantage regardless of your style. If you are a player who yearns for a more powerful shot, then a loose tension will best fit your needs. F
or those who are already comfortable with their power, and looking for more control or accuracy, then tightening up your strings is the right way to go. Squash string thickness is often referred to as gauge, and is measured in millimetres by diameter.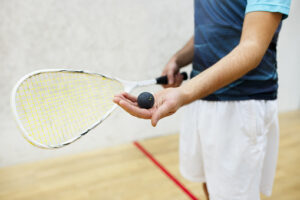 Using a string with a thinner diameter will offer more power, also power due to a catapult effect that is created, as thin strings, allow the string bed to bend and manipulate inwards and outwards. Stringing up with a thicker string will not only provide additional control, but thick strings are also more durable and will last much longer before replacements are needed. The increased accuracy is provided by a much firmer and less palpable string bed.
For looser strings, as the strings become more relaxed, you will begin to lose the power in the shots you originally had. These issues can be easily resolved by maintaining your equipment and replacing or tightening strings regularly. If you are a beginner mastering your game, or a pro polishing off your skills, string tension should always be an element of the equipment you maintain regularly. It is estimated that string tension will reduce up to 10% on the first day of being strung, and more so over time, due to use during play.
Best strings on the market
With so many Squash strings on the market, here are four of the best ones for Squash pro and club players, including beginners:
1: Tecnifibre DNAMX
Endorsed by Mohammed El Shortage, this particular string has been a favourite by many Squash players and is available in 16G, 17G, 18G, and is available Tecnifibre Carboflex 125 X-speed racquets.
Not only has this string offer both great power and good control, it feels very light on the racquet. Some strings have weight and influence the overall balance of the racquet. This string has also broken less frequently on me.
If you are a Squash player, who does powerful shots, the Tecnifibre DNMAX is popular for its less breakage with this string, plus the fray of the string is also gradual, making this string reasonably durable and cost-effective.
2. Tecnifibre 305 Green
This is the flagship string by Tecnifibre and is very popular amongst the Squash pros notably Nicole David, Raneem El Welily, Tarek Momen, Ramy Ashour and many more.
This string can be seen from miles away due to its iconic bright green colour. It has incredible power, control, and touch. When you feel the string with your hands you can feel an oily and rubbery varnish on it that gives its texture and grip on the ball.
Compared to any other types of racquet strings, including the Tecnifibre is another model from the DNAMX range; you will feel an insane amount of power coming from this string in your hard drives from the back of the court.
At the front, you will feel the weight of the ball on your racquet face during your drop shots. It is no wonder that this string has become one of the most popular amongst the pros. Available in 16G, 17G and 18G, there seems to be an option for all levels of players and their preferences. The Tecnifibre supreme line of racquets comes factory strung with the 305 green string.
According to experts as one of the favourite strings for most pro squash players, it is the string of choice for both amateur and club level players. Furthermore, one Squash coach recommends the Tecnifibre 305 Green for every serious player to try this string at least once to experience what it offers.
3. Ashaway SuperNick XL
Ashaway is an American brand specializing in strings for all sorts of racquet sports including squash, racquetball, tennis, and badminton.
They know their business. Ashaway SuperNick XL is one of the most popular strings between club level and advanced level players for its performance, durability, and price. Although just slightly below Tecnifibre in terms of power, its texture produces good control and cut, generating a lot of spin on the ball.
It is also reasonably durable and can go on for months without breakage if played without too many miss-hits. Ashaway SuperNick XL comes in 17G in two different colours; an iconic red white and blue, and a red, lime green, and blue, both performing equally well. There is also an 18G variant, the Ashaway SuperNick XL Micro, for more precision players and comes in lime green and black. Many racquet brands including Black Knight and Harrow come factory strung with Ashaway strings.
If you ever need a good, reliable squash string and have trouble deciding, the Ashaway SuperNick XL is a safe option for all players. The other great thing about it is that most shops carry it and it is reasonably priced.
4. Head Evolution Pro
If you follow Squash, you know Head is a racquet brand that most players use – thus, if you are introducing a friend to the sport or recommending a string to use as a beginner/immediate player the Head Evolution Pro is of great value.
Not only is this great string affordable and performs decently, but also comes in three different colours, an attractive flaming orange, a pearly white, and a jet black. The string also comes in both 17G and 16G variants depending on whether you want more performance or more durability.
Also, if you learning the sport, you can keep breaking it and it is a great string to develop your game with or repair your racquet for the one-off squash session (though I always encourage endless play).
Add Squash strings to holiday gifts
It is important to remember that your squash strings will lose tension over time. For those who opt for tighter strings, you may notice your control and accuracy decreases over time, and this can be, in part, down to your strings losing tenacity.
Thus, choosing the right squash strings for your racquet is considered one of the most important factors in your racquet setup. Ensure you have the right tension, gauge for your style of play, and maintain regular upkeep to ensure the consistency of your game.
For all your Squash string needs visit our good friends PDH Sport – https://www.pdhsports.com/