When it comes to playing Squash, it is important to know which ball to use – whether you are amateur Squash player or someone who is serious about Squash and plays at high standard, knowing which ball to use is important.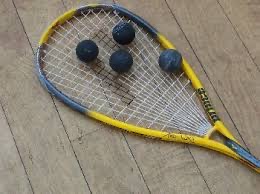 With each Squash ball is designed to suit a particular standard or experience – below is a simple table with details of the main ones. It's the perfect time to book a squash game as the winter nights draw in and the temperature drops quicker than a double yellow squash ball!
Selecting the Squash ball
Choosing squash balls is another vital aspect when buying your Squash, as selecting the right Squash ball depends upon the level of your game. Yellow dot balls, white or green dot balls, red dot balls and blue dot balls are the different types of balls used in squash.
Have you ever wondered what those dots mean on a squash ball?
In total, there are six squash balls to choose from which affect the bounce during a game; for amateur players they use white, green, and blue dot balls while professional players use yellow balls. Squash Coaches generally use red dot balls.
Blue Dot Balls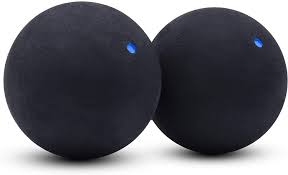 If you are getting into squash for the very first time, this is the one for you. It is designed for first time players at whatever age to develop better hand-eye co-ordination and to learn the basic techniques.
Blue dots are better for rallies and it will ensure the ball remains warmer to help it bounce better. In addition, compared to other Squash ball he Blue Squash dot ball is has the highest hanging time in the air, so, players can play more rallies and enjoy the game.
Bounce height: High      Speed (hang time): Very long
Red Dot Balls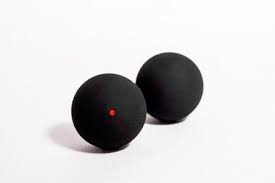 These balls are the best for recreational players. The Red Single Dot ball is large in diameter so has good bounce. Recreational players can improve their technique using this ball as they get more hanging time.
Once you are starting to get the hang of squash it is time to move onto the red dot ball. This is similar to the beginner's version, but offers a little less bounce to encourage players to move quicker to the ball and allow 'kill' shots to have a bigger impact as it will be harder for your opponent to return it.
A red dot ball will bounce higher and is therefore harder to win a point off, in this case why not practise drop shots with this. When you then come to using a yellow in a match, you will notice the impact.
Bounce height: Medium Speed (hang time): Long
Yellow / Double Yellow Dot Balls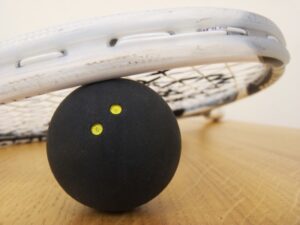 When you are ready for the step up in serious Squash play, then it is time for double yellow dot.
Designed are for skilled players, unlike the single dot, the double dots yellow squash balls simply do not bounce as high. The double yellow has a slightly lower bounce.
Double dots also bounce faster off the front wall, thus making it trickier to volley.
Try using these in training sessions and you will be able to improve reaction times to prepare for a match with a yellow ball against your opponent.
With Yellow Double Dots balls are the most used balls in the squash circuit. Yellow Double dot balls are popular with Professional players and are suitable for tournaments and good club players. These balls require a consistent, sustained hard-hitting game to maintain the correct temperature for optimal performance.
Bounce height: Low   Speed (hang time): Very short
Yellow/Single Dot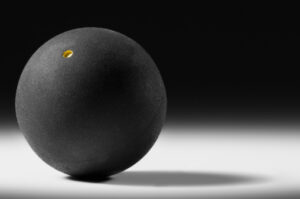 Now with the Yellow Single Dot:, these are used by Club/Semi-pro players (intermediate level( players. Compared to the Yellow Double Dots balls, the Single Dot balls are used in a cool place and have more hang time in the air than Double dot.
Bounce height: Low Speed (hang time): Very short
Best Brand of Squash Balls
The key makers of Squash balls come from the same lineage of Squash racquets:
Dunlop
Not does DUNLOP make excellent Squash racquets, they also very well known as popular Squash ball brand. They have produced the highest number of squash balls in the world and the DUNLOP Pro Yellow double dot balls are the most used squash balls.
DUNLOP is the only brand to develop White squash balls for Glass courts. They have also produced Single dot balls in Yellow, Red, and Blue.
England's former men's No.1 Nick Matthew, won the two of Squash's most prestigious tournaments the British Open and the World Open, three times each, using with Dunlop's double yellow Squash balls.
Fellow Brit, Alison Waters, another Dunlop sponsor player, won the 2010 British National Squash Championships using Dunlop Double Yellow dot.
Head
HEAD is also slowly getting its share into the squash balls market after having a successful range of racquets. It has two types of balls: HEAD Prime Yellow Double Dot ball and HEAD Tournament Single Dot balls.
Black Knight
Not only does this company produce championship winning squash racquets, they even produce squash balls too.
According to publicity material, the Black Knight Tru-Bounce single yellow dot squash ball utilises Tru-Bounce technology and is developed to deliver a squash ball that matches the speed of the current standard tournament balls, the Tru-Bounce squash ball is much more durable and provides more consistent performance.
Final Thoughts
Practice, progress, change your Squash ball as your ability develops.
With each Squash ball, they can help a player improve various aspects of their game; so once you improve your games and skills in squash you will be utilise other Squash balls.
For extra visibility, there is white Squash Ball and used on a glass court; they are equivalent to a yellow double dot in performance. These balls played with only in glass courts to improve the visibility of balls.
If you enjoy playing doubles Squash, you play with a special form of squash ball called Hardball Doubles, and is designed to be used on two-on-two on a larger court. Compared to single play Squash ball, it a much harder ball.
To conclude, always remember to purchase new Squash balls after 3 sessions, if you are Squash professional change replace your squash balls after two games in a serious tournament.