Squash goggles are a form of eye protection that should be used throughout any squash game. The squash players at the top of the game can hit a ball at up to speeds as high as 125mph – something worth protecting against – even if it's a practice game.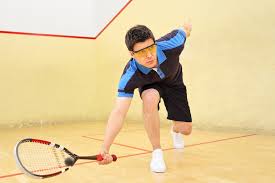 Even though our sport is healthy, the damage inflicted by a squash ball traveling at such speeds is high and very serious; hence Squash goggles have some great design features and functions to keep you safe during a game.
If you are a fan of doubles Squash is a requirement to wear Squash goggles.
Contrary to belief most Squash pros make the goggles in practicing and even wear them when playing an occasional recreational game with friends/associates.
Just last year, top England squash player Daryl Selby suffered a freak eye injury from which there was a discussion on whether Squash goggles should be a mandatory requirement in singles Squash competition – well it should be given the number of safety protocols following the pandemic.
This shows that eye health is important in Squash, in a post-Covid world Squash – hence goggles are going to be a key piece of equipment to invest in if you want to maintain positive health & wellbeing in playing.
Stylish designs from great manufacturers
There are many different choices of Squash goggles on the market, thus there are a few things you might want to think about before buying.
When deciding on what squash goggles to buy, look and see if the lenses are shatterproof, and if they offer anti-fog properties. However, anti-fog sprays are available as a low-cost alternative.
You should ensure that the size of the goggles would fit comfortably on your head, whether you play Squash for fun or competitively it that there are goggles that come in junior sizes, even available for the younger Squash athlete and seniors too.
Different squash goggles have different designs, for instance, some will tie around the back of the head for a secure fit, and others are held in place like a regular pair of glasses. It is important to remember that if you already wear prescription glasses, you can have goggles made specifically for your visionary needs.
A great feature to think about for a pair of prospective would be that the lenses are scratch resistant. Remember Squash is a physical sport and there are times when your goggles are going to receive bumps and scratches.
Racket Sports World highlighted some of the best Squash goggles on the market:
DUNLOP I-Armor Protective Eyewear: we all know Dunlop is heavily associated with Squash, thus their I-Armor Protective Eyewear goggles have the seal of approval from the World Squash Federation. In terms of style and feel for the Squash player, it has an ergonomic style to provide extra stability and comfort for players, plus made from Polycarbonate, and is shatterproof.
Head Impulse Protective Eyewear: with Head, they produce equipment for Squash's racquets cousin Badminton and Tennis, so it is good to know if you enjoy either one you are sure onto a winner their products for eye-protection in racquet sports. This model of Squash goggles, they are highly recommended because of their comfort while playing. The goggles are lightweight and come with an anti-fogging polycarbonate lens.
Bangers HS-OTG Protective Eyeguard: now if you are a Squash player who wears prescription glasses and enjoys Squash, these US-made goggles are one for you as you can wear them under your glasses. It is worth knowing that these goggles have a wide vision, in addition to shatterproof, anti-fogging, and anti-scratching polycarbonate lenses.
Wilson Vents Eyewear: just like Head and Dunlop, Wilson is another racquets manufacturer associated with Squash and its racquet cousins – Badminton and Tennis. The Vents Eyewear goggle has been designed to provide the clearest possible vision with distortion-free technology. Furthermore, it has a nosepiece to provide additional comfort and stability even for players who sweat more than usual.
Ektelon Strobe Eyewear: this goggle is made entirely from a single piece and goggles are considered one of the best in the market squash goggles. Not only does it offer great comfort and excellent clear vision for Squash players, but the lenses are made to be scratch and condensation resistant.
Tecnifibre Absolute Squash Eyewear: If you are, a Squash player that owns a Tecnifibre racquet and enjoys comfort, their Absolute goggles are said to be one of the unique goggles in the market in terms of their looks and design. It has an innovative vented shield technology to maximise airflow and reduce fogging; plus the lens has an anti-scratch and anti-fog coating on it and is made from nylon material. One such notable design feature of this goggle is its curved side arms with rubber grip pads that hold the frame in its position and provides additional stabilisation. As an added bonus, the goggles come with a protective case, in order for them to be cleaned after a game.
For the full article visit: https://racketsportsworld.com/best-racquetball-squash-eyewear/
It is worth knowing that a sturdy pair of scratch-resistant goggles will ensure they do not have to be replaced regularly and that your vision is not impaired whilst wearing your goggles.
Invest wisely in your Squash eye health
When it comes to the debate about wearing Squash goggles in recreational or competition, personally they should become an essential part of your squash equipment.
Remember when comes to selecting Squash goggles, always going with a design that doesn't impair your peripheral view of the court is essential, as creating a blind spot on the court counteracts the concept of safety. Whilst an element of style may be something you look for in a purchase, safety is the most crucial aspect of goggles.
Not only are they an inexpensive solution to prevent serious injury risk, but the design of goggles is centred on safety in the game, while providing all the little innovations you need, such as anti-fog, comfort, and scratch resistance.